Sky4Sim addon – New update available! – 1.6.2.0
Hello dear simmers!
New update available! 1.6.2.0 – This update comes with a bunch of highly requested and cool features!

Context Menu
With version 1.6.2.0 sky4sim integrates a new context menu on the mouse click event. This will allow a quick and easy access to multiple features directly from the map!
The context menu propose different features and shortcuts depending on the element which has been clicked (Airport / Navaid / POI / parking spot / random location)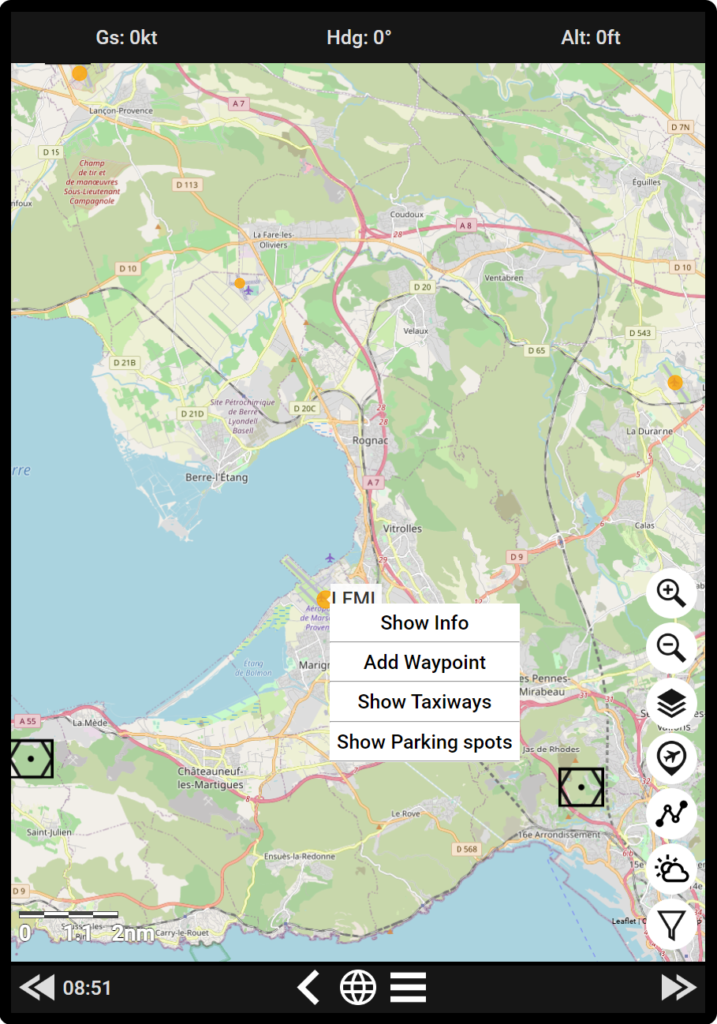 ---
Airspaces using Open AIP map layer
This feature has been highly requested by the Sky4Sim community! Being able to see all airspaces and information based on the Open AIP map.
It is now part of the Sky4Sim map filters. Open your filter's side panel and under the Navaids section check the Show Airspaces filter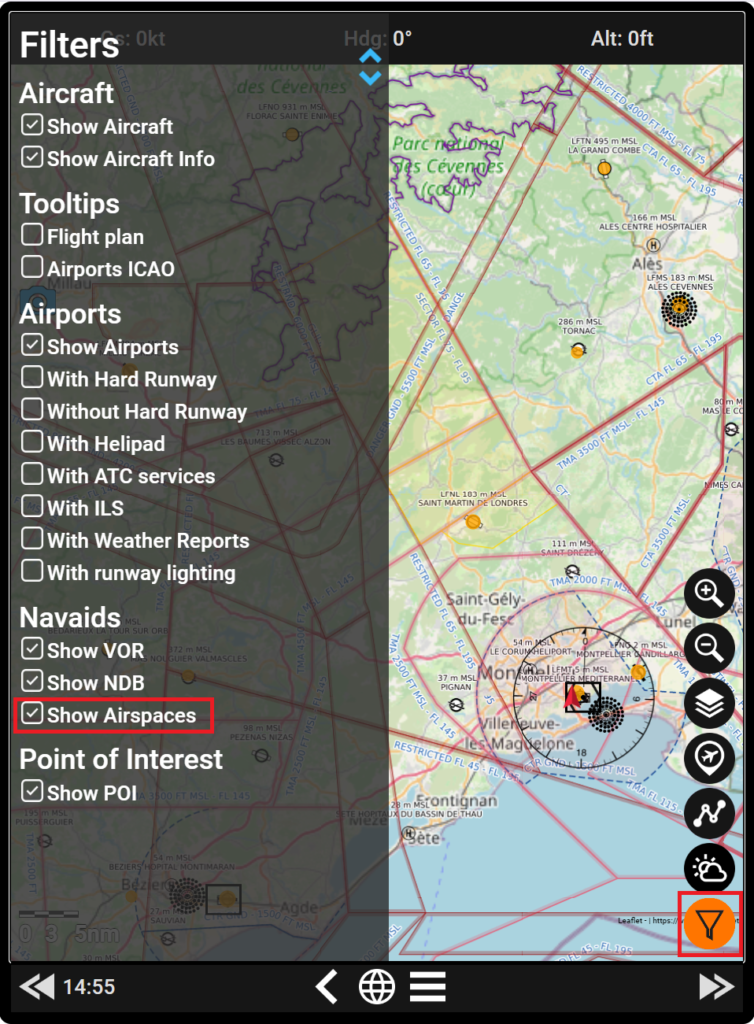 ---
Airport Taxiways and Parking spots
In order to keep improving the access to all ressources pilots could need during their flight, Sky4Sim is now showing airport's Taxiways and Parking spots!
To get access to these information, click on any airport circle marker on the map and select "Show Taxiways" or "Show Parking spots"

All taxiways and parking spots are named as they are inside MSFS itself! You can update taxiways along with all MSFS information using the Navdata update feature in the Settings application!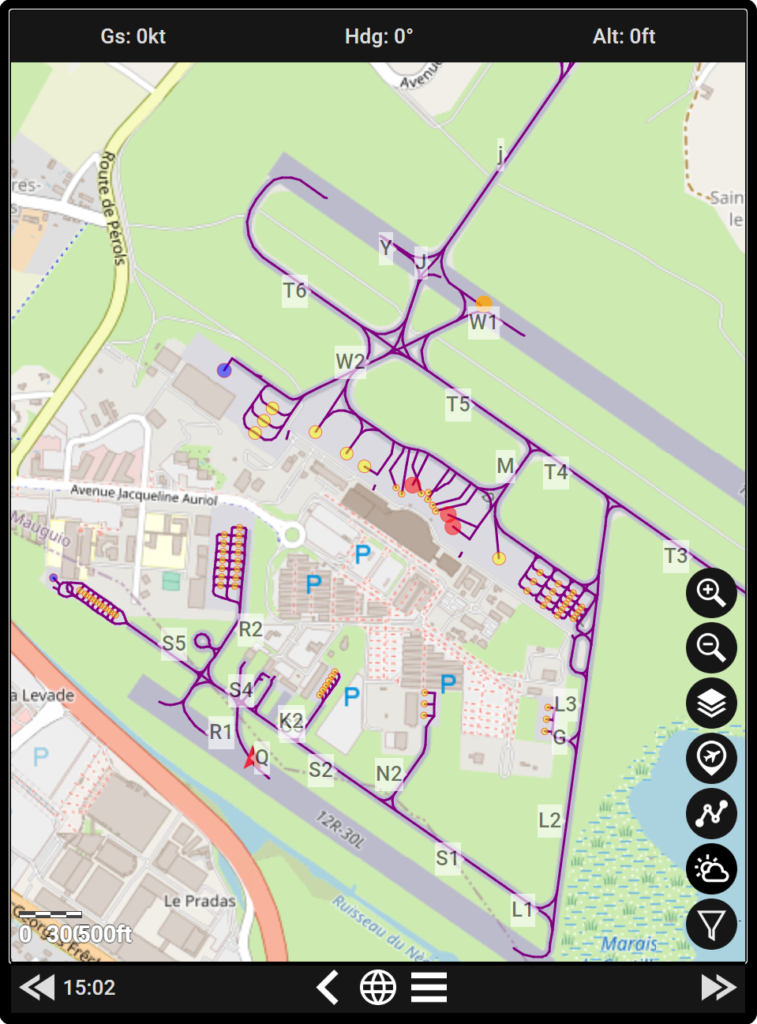 Parking spots are colorized to easily allows you to differentiate Ramps / Gates / Docks and FuelBox:

Red: Gate
Yellow: Ramp / Parking
Green: Dock
Purple: Fuelbox
---
Teleport Aircraft
Another highly requested feature since the initial Sky4Sim release! The Teleport feature is finally here!
Using the context menu you can teleport your aircraft at any location and any altitude!
Clicking the map on any location and selecting Teleport aircraft will redirect you to an application which will ask for the desired altitude with the choice between AGL and MSL altitude reference. Simply click teleport and your aircraft will be instantly sent to that new location within the Simulator!
It is also possible to teleport your aircraft to a parking spot using the new Airport's parking spot layer (available from the context menu of the airport)! In this case you will have to trigger the slew mode in MSFS before doing the teleportation to avoid any collision and crash.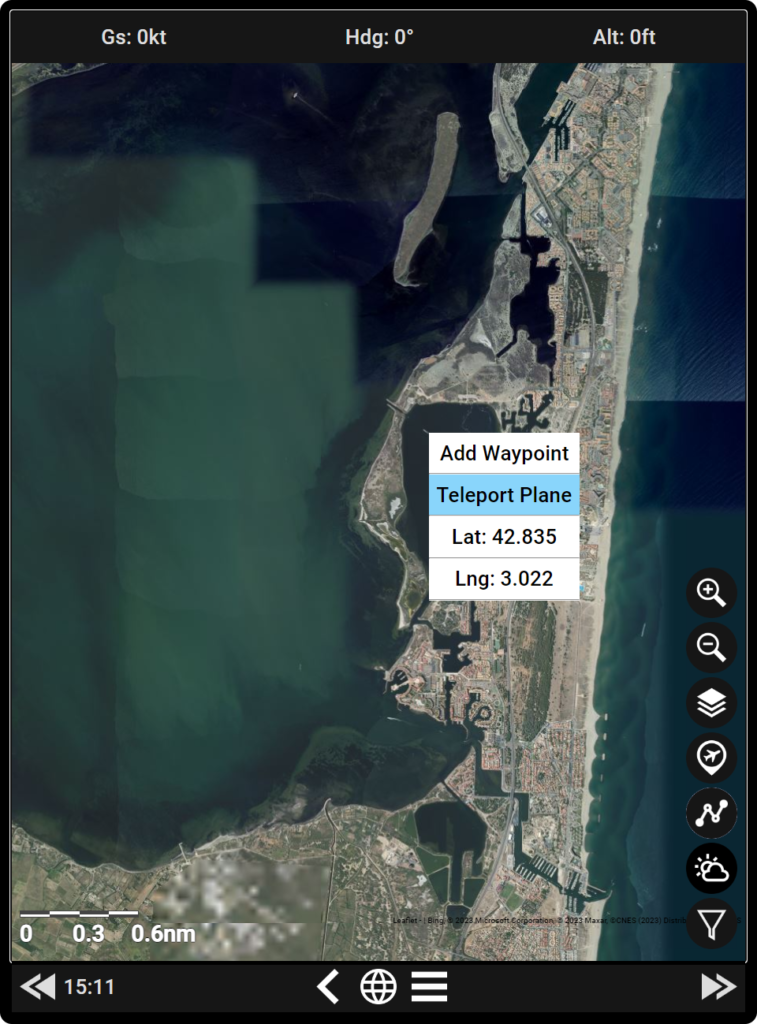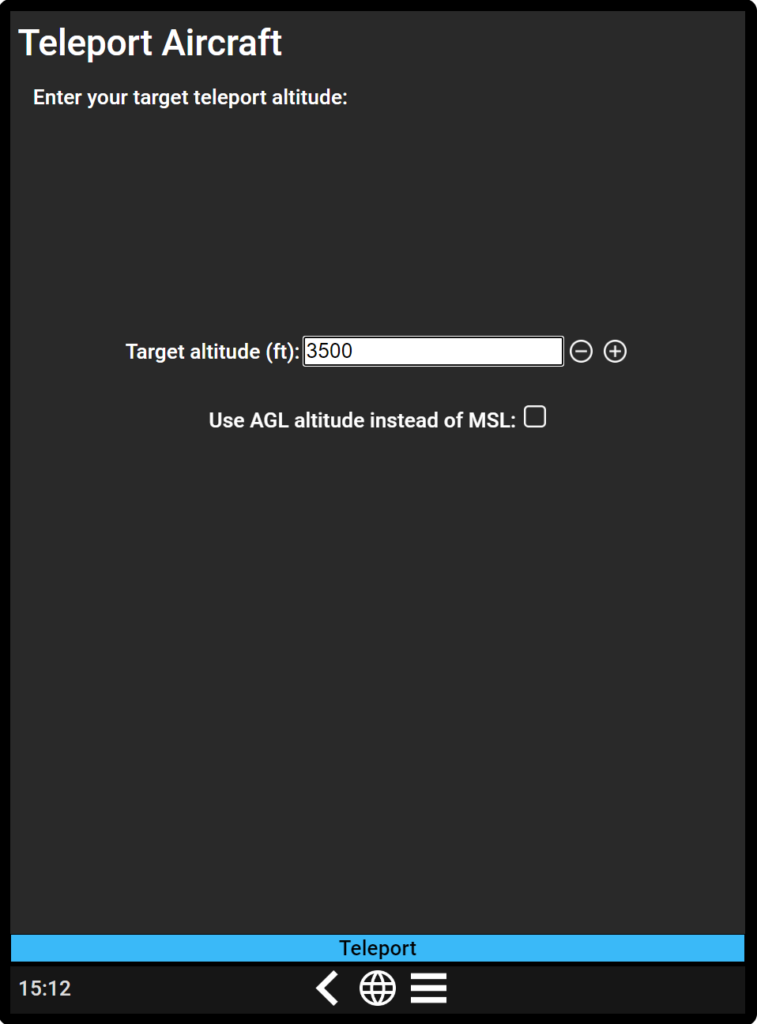 ---
Freelance Jobs
If you are tired of trying to find a purpose to fly or if you don't have enough time to invest into a career mod!
Let me introduce you Freelance Jobs in partnership with Neofly4!
Any aircraft, anywhere in the world, experiment new ways of flying!
From simple cargo and passenger jobs to firefighting, military interception and search and rescue! Experiment more than 15 mission types, all available from within the cockpit using your Sky4Sim tablet!
This feature require Neofly4 (to be released during June 2023!). Neofly4 is free and will be available on https://neofly4.net
---
Neofly Action Button
If you are a Neofly player you must have been in that situation where you have to alt-tab to Neofly to do an action like dropping water on a fire during a firefighting job, or give the parachutists the green light for their jump!
With the integrated Neofly Action button, Sky4Sim and Neofly integration goes one step further!
As soon as sky4sim and Neofly are connected, you will see a new button on Sky4Sim Map. This button will remain disabled until an action is available in Neofly. Then the button will become red and you'll be able to use it to trigger your Neofly action!
---
All these new and exciting features are part of the Free version of sky4sim!
If you want to support my work and allow me to dedicate myself even more into Sky4Sim, consider upgrading to Premium version, it helps a lot! And if you really really like my work you can buy me a coffee! 🙂
Release Note
New Features
Open AIP layer integration (available from the filter tab -> Navaids -> Show airspace)
Context Menu on map: Left click on map will show different actions regarding what you clicked on (Map, Airport, Navaids, Parking spot, POI, etc…)
Teleport aircraft: Using the context menu it is possible to teleport the aircraft to several locations (Take in consideration that in some case you have to enable slew mode before teleporting to avoid MSFS crash, but sky4sim will let you know when it is required)
Show airports taxiways
Show airports parking spots
Show GPS coordinates of cursor on context menu
Freelance Jobs application
Neofly Action button
Improvements
Adding a menu entry to open the web browser version from the tray icon
Added a close button on the question message box which ask if you want to quit / minimize sky4sim to close that window (cancel previous action)
Improved Altitude Graph scale size
Added tooltips on Altitude graph peaks and valley to have altitude details at these points
New Visual setting to change the lines' width for flight plan and taxiways
Automatically propose a Name for flight plan Save regarding your flight plan departure and destination
Bugfixes
Do now show MSFS bushtrips without legs on the bushtrips application
Fixed an issue that could prevent sky4sim to shutdown
Fixed issue where map tiles were not showing up when showing the pad using the shortcut after it has been hidden for some time
Fixed PDF reader bug which was showing an old page on top of current page when changing page too quickly on MSFSFixed PDF reader bug which was showing an old page on top of current page when changing page too quickly on MSFS
Fixed a fastswap issue
Fixed issue with the brightness mask remaining visible when the panel is minimized
Thanks again to the entire community for all their positive feedback!
Wish you all many great flights!